Meeting of the Minds 2020 Annual Summit
Feb 19th to 21st
Phoenix, AZ
Forth Executive Director, Jeff Allen will speak on the "How Cities Incentivize, Prepare and Design for Electric Mobility" Panel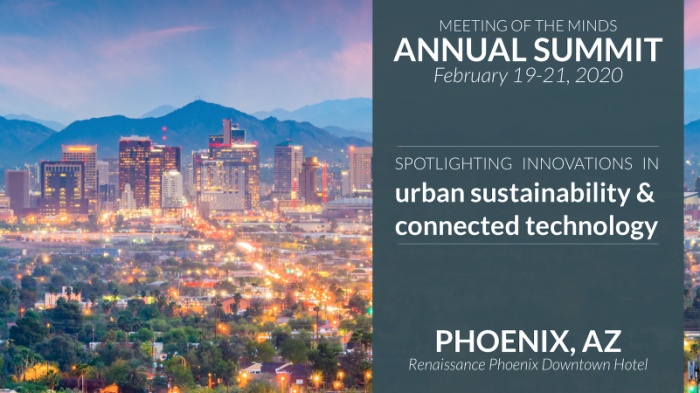 Each year, 425+ urban practitioners convene at the Meeting of the Minds Annual Summit to showcase recent successes and to discuss the ongoing challenges facing the future of smart and sustainable cities. What sets this event apart from others is the inimitable list of speakers and attendees — city leaders, innovators, providers, and practitioners from across sectors and silos who meet at this unique event to share best practices, lessons learned, and new solutions for a sustainable urban future.
Attending the Meeting of the Minds Annual Summit is a one-stop opportunity for thought leaders seeking cross-disciplinary strategies and partnerships that deliver scalable, transferable, and equitable solutions for cities and regions. We encourage you to join this cross-sectoral group of VIPs from city agencies, transportation authorities, economic development agencies, utilities, corporations, start-ups, foundations, universities, and non-profits.


How Cities Incentivize, Prepare and Design for Electric Mobility |
Wed, Feb 19, 04:05 PM - 04:35 PM
Cities are seeing e-bikes, e-scooters, electric vehicles, and new electric mobility options pop up on their sidewalks and streets. However, not much discussion has been focused on how the electric charging infrastructure will change the design of our streets in the future. Where will these be located? How will it impact our street design - not just at the curb? How will we power them? What new battery innovations are being developed? Are our policy incentive structures supportive of the transition and adoption of EVs and electric mobility?
Moderator: Melinda Hanson, Head of Sustainability and Environmental Impact, Bird

Jeff Allen, Executive Director, Forth

Spencer Reeder, Director, Government Affairs, Audi of America

Brookes Shean, Regional General Manager, FLO
Register