Reviewing 2019 and Looking Forward to 2020
Dec 10th 10AM to 11AM
Forth's monthly webinar series highlights emerging topics in the smart, shared and electric transportation industry.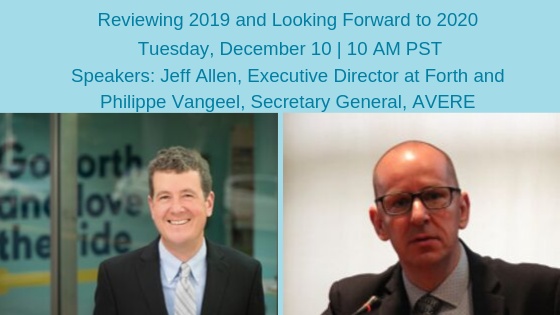 The electric, shared and smart mobility industry continues to grow at a rapid rate, with advancements in battery technology, charging infrastructure expansion and continuing growth in EV sales. Forth's Executive Director, Jeff Allen will join AVERE's Secretary General, Philippe Vangeel to recap the top electric transportation industry news of 2019, as well as give key insights into what's to come in 2020.
This webinar will highlight the growth of the industry nationally and internationally, as well as provide a sneak preview of what to expect in 2020.
Jeff Allen, Executive Director, Forth

Jeff has served as Executive Director of Forth since December 2011. He previously served as Executive Director of the Oregon Environmental Council and worked as an organizational development consultant to several nonprofit organizations. He holds a Master's degree in public policy from the Goldman School of Public Policy at the University of California, Berkeley and graduated Phi Beta Kappa from the University of Michigan.
Philippe Vangeel, Secretary General, AVERE
With his drive to work with great technology and brilliant people, Philippe Vangeel found his way as Secretary-General of the European association of one of the fastest-changing and growing sector: electric vehicles. An engineer by background, Philippe has had experiences in working on new and disruptive technologies, for example as an innovative entrepreneur in e-retails, security and the medical sector, experiences that help greatly with his new position. His focus is not just on the technology itself, but also on persuading end-users to embrace change so that they can be part of the mass uptake of electric vehicles that can decarbonise transport and help fight climate change.
Register