The Micromobility Policy Playbook
Nov 12th 10AM to 11AM PST
Forth's monthly webinar series highlights emerging topics in the smart, shared and electric transportation industry.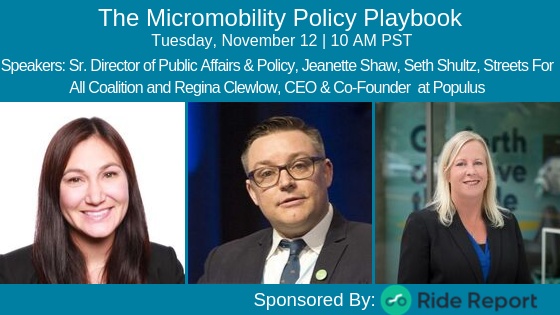 The emergence of electric scooters into the roadways has changed the landscape of first and last mile transportation in cities. This new and exciting mode of transportation has the nation split. On one hand, the scooters provide a new way to get around in cities, but and the lack of effective policies around rights of way and riders creates backlash against for e-scooters. The Streets For All Coalition formed in 2019 on a mission to adopt policies that allow environmentally-friendly transportation services to expand safely and equitably. At this webinar our Sr. Director of Public Affairs and Policy, Jeanette Shaw will be joined by guest speakers Seth Shultz, Executive Director at Streets For All Coalition and Founder & CEO at Urban Breakthroughs and Regina Clewlow, CEO & Co-Founder, Populus to discuss current policies around micromobility guidelines and how city and state regulations can create safe streets while meeting sustainability, safety, and economic goals.
Jeanette Shaw, Senior Director, Public Affairs and Policy, Forth

Jeanette works to develop transportation electrification and e-mobility legislation and regulatory policies. She also oversees marketing and communication strategies for Forth. Jeanette holds an Executive MBA from Stanford University and a B.S. from the University of California, Santa Barbara.
Seth Schultz, Executive Director at Streets For All Coalition Founder & CEO, Urban Breakthroughs
Seth
Schultz is the founder of Urban Breakthroughs, a consultancy focusing on climate change and cities. He has over 20 years of experience working internationally on the environment, sustainability and climate change. Over the past year Seth has been focused on creating a space-race-era mobilization of R&D on cities and climate change through the creation of Innovate4Cities. He has been doing this with city networks, academia, and the private sector to create a global research and innovation agenda to enable cities to transform at the scale and speed required to combat climate change.
Regina Clewlow, CEO & Co-Founder, Populus
Regina is the CEO and Co-founder of Populus, a data platform for cities to manage the future of mobility. Trusted by leading cities and the world's largest mobility operators, the Populus platform securely ingests real-time data from shared electric scooters, bikes, and cars - helping operators and cities partner to deliver safe, equitable, and efficient streets through better data and analytics.
Sponsored by:
Register