How The Infrastructure Bill Jump-Starts Electric Transportation
November 10, 2021
By: Jeanette Shaw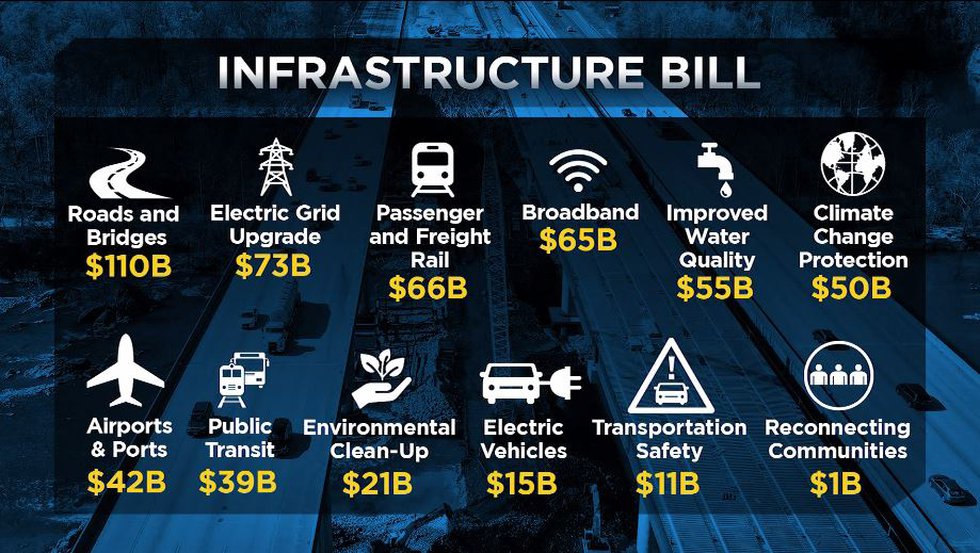 After intense negotiations, Congress recently passed the 2,700+ page Infrastructure Investment and Jobs Act, which President Biden is expected to sign in the coming weeks. Forth's policy team worked closely with a number of allies and coalitions to help shape this package and get it passed. This legislation will make key investments over the next five years to accelerate transportation electrification nationwide, building a cleaner and more equitable transportation system. Our colleagues at Atlas EV Hub have summarized the key measures here. Below, we shed light on how the legislation impacts equitable transportation electrification.


Up to $7.5 billion for EV charging and hydrogen fueling infrastructure.
This is the first substantial federal investment in charging, and it cements charging as a core transportation responsibility, just like building roads and bridges. Of this amount, $5 billion will be provided as "formula funds" to all states, meaning that EV drivers everywhere should begin to see better charging networks. The remaining $2.5 billion will be dispersed through a competitive grant program, with priority going to rural areas, low- and moderate-income neighborhoods, and communities with low rates of private parking.
Forth will work hard to ensure this funding is invested wisely, in ways that center equity, drive faster market growth, and follow established best practices. Our work will build on our recent advice to the State of Oregon and to international governments. Forth and the Greenlining Institute launched the Towards Equitable Electric Mobility (TEEM) Community of Practice in 2020. TEEM consists of a peer-to-peer community of advocates to share policy goals, build capacity, and develop a mutual commitment towards advancing racial equity in electric mobility.


Up to $5 billion for electric school buses.
With $2.5 billion dedicated to zero-emission buses, the other $2.5 billion may be invested in "lower-emission" buses. Forth and our allies will strive to ensure these funds are focused on zero-emission technologies to benefit historically underserved communities, and are leveraged to provide other community benefits such as resilience. This work will build on projects we already have underway to center equity and resilience in electrifying school buses.


Over $6 billion to support the development of a robust and sustainable domestic supply chain for electric vehicle batteries.
This includes measures to encourage sustainable domestic production of key battery materials and components, recycling, second life re-use, and more. Forth is a founding member in the Electric Vehicle Charging Initiative that works to accelerate shovel-ready charging infrastructure projects that can put people to work, infuse the economy with investment funds, and increase access to clean transportation.


Nearly $4 billion for transit fleet electrification.
These funds support transition plans and bus and charging costs to put communities on track to zero emissions transit systems nationwide.


Targeted investments in port electrification, electric ferries, state transportation electrification planning and grid modernization.
These investments will build upon "electric highways," such as the West Coast Electric Highway with which Forth has been working for over a decade to ensure funding and continued operation.


The creation of task forces, working groups, and studies, including a high-level Electric Vehicle Working Group.
These efforts will strengthen stakeholder collaboration and bring greater focus to key transportation electrification priorities.
This is a huge step forward, marking by far the single largest federal investment ever made in transportation electrification. It will have ripple effects for many years to come. And yet, it is just one step forward. The hard work of writing rules and regulations, shaping program design, and helping states and communities make good use of the funds lies ahead of us.
Meanwhile, Forth also continues to advocate for passage of the "Build Back Better" budget reconciliation bill, which would provide billions in additional support to transportation electrification. Stay tuned, and we hope to have good news to report on that front in the coming weeks as well.
Back
How The Infrastructure Bill Jump-Starts Electric Transportation
/news/how-the-infrastructure-bill-will-jump-start-electric-transportation
After intense negotiations, Congress recently passed the 2,700+ page Infrastructure Investment and Jobs Act, which President Biden is expected to sign in the coming weeks. Forth's policy team work...