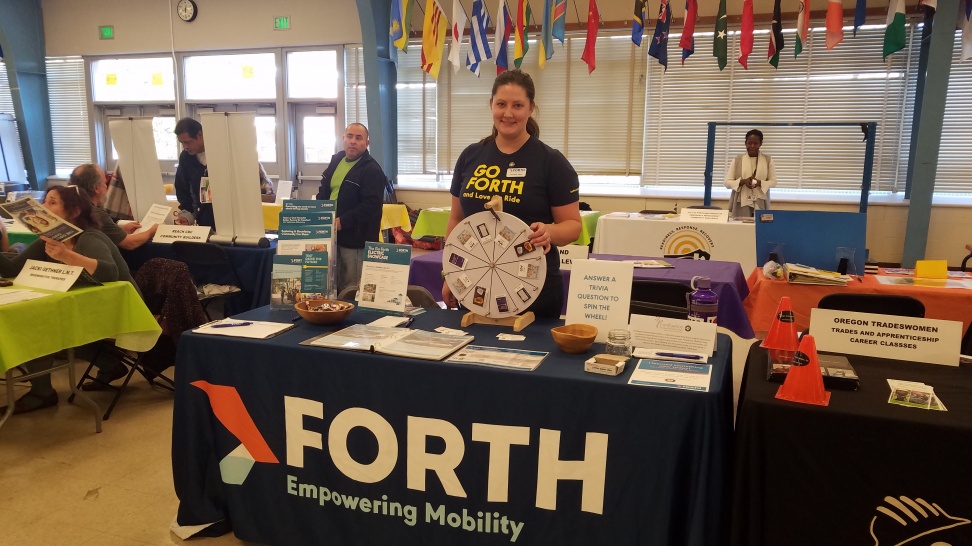 My Experience at Forth!
July 10, 2019
By: Jennifer Stein
As I wrap up my term with Forth, I have taken time to reflect back upon all of my successes and challenges over the past year, and how much better of a person I think this experience has made me.
When I first started with Forth, I was just another average fossil-fuel driver. I grew up in the Northwest, and I was raised to believe that having a gas-guzzler meant freedom. However, I quickly learned how burdened I was with oil changes, service visits, and trips to the gas station. And as an AmeriCorps member serving in my second term, all of those costs really started to add up. Luckily, I was able to meet with our great partners over at Platt Automotive back in October, and now I can say that I'm a carefree EV driver of a sporty used Fiat 500e, and I'll never look back!
Continuing on with the legacy youth education of the previous AmeriCorps member, Kelly Yearick, I worked to build upon Forth's youth EV curriculum, and ultimately re-launched her after-school program as a three-part classroom series. I had the joy of running the pilot program at North Gresham Elementary where I brought the history of internal combustion engines and electric vehicles into two fourth grade classrooms in part one. For part 2, I arranged for students to visit the Forth's electric vehicle showcase for a look at chargers and an exploration of clean energy, topped off with a return to the school for part three, to build a battery car and discuss what the future of transportation might look like.
I strengthened Forth's relationship with Portland General Electric through a program partnership with in4all, a non-profit that pairs industry professionals with classrooms to teach about STEM careers. I joined classrooms at Bridger Elementary in Northeast Portland to offer a battery car building workshop in which the students built battery powered toy cars with PGE employees serving as facilitators for the students. I'm excited for the next member to continue these lessons, and hopefully expand our relationships with other businesses and community-based organizations in different schools across the Metro as we work to spread information about EVs to every community.
During my term, I had the opportunity to meet with multiple groups exploring how to offer EV education for youth. At our annual Roadmap Conference, I had the pleasure of talking with local governments, non-profits, and industry partners about the work I have done over the last year. It is my hope to set up the next AmeriCorps member to continue to refine the curriculum, and work to identify best-practices to allow this curriculum to reach a broad audience. I've also had the opportunity to develop a plan for the next AmeriCorps member to work closely with our EV Ambassador program to manage and train these volunteers to help provide classroom for our battery car building lessons.
It has been my pleasure to participate in community tabling events across the region. I most enjoyed spending time with folks at the 27th annual Good in the Hood festival at King School Park in Northeast Portland, and the Mount Hood Community College Conservation & Repair Fair in Gresham because these events represent underserved and underrepresented communities in our area.
Through our community and consumer engagement programs, Forth is able to bring the EV conversation directly to folks who may not have ever considered how easy and affordable it can be to own an electric vehicle. As an AmeriCorps member, I had the privilege of meeting and having conversations with people from all walks of life, in order to help Forth better understand what our communities want to know about electric, smart and shared transportation.
I am so appreciative for the Confluence Environmental Center and their cohort structure, which allowed me to spend time bouncing ideas off my peers in a supportive and non-judgmental setting, while also participating in some great team meetings and National Service Days. I'm also incredibly thankful for my team at Forth, who really welcomed me with open arms. It has been a very rewarding experience, and I'm happy to say that while I'm leaving the organization, I'm still a proud EV owner with a lot of wonderful new friends.
Back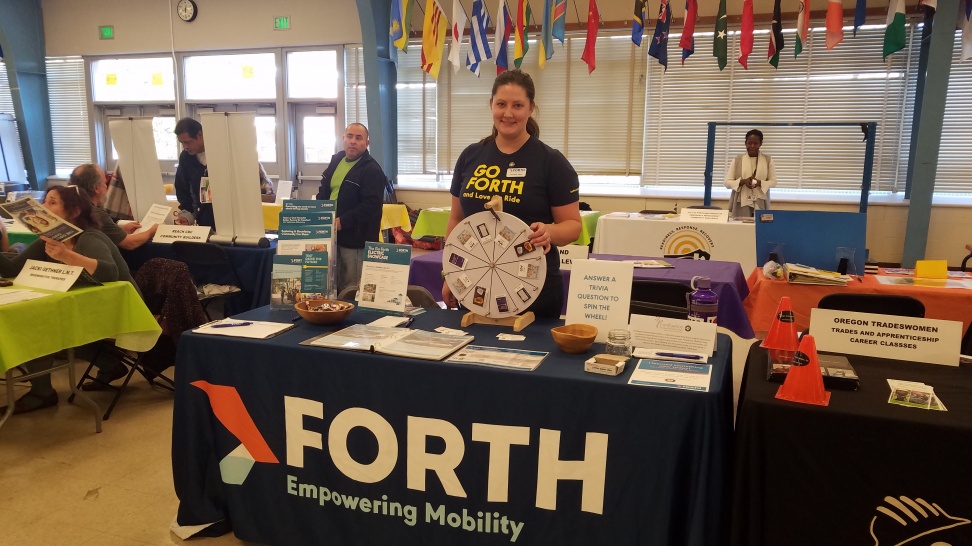 My Experience at Forth!
/news/my-experience-at-forth
As I wrap up my term with Forth, I have taken time to reflect back upon all of my successes and challenges over the past year, and how much better of a person I think this experience has made me. W...