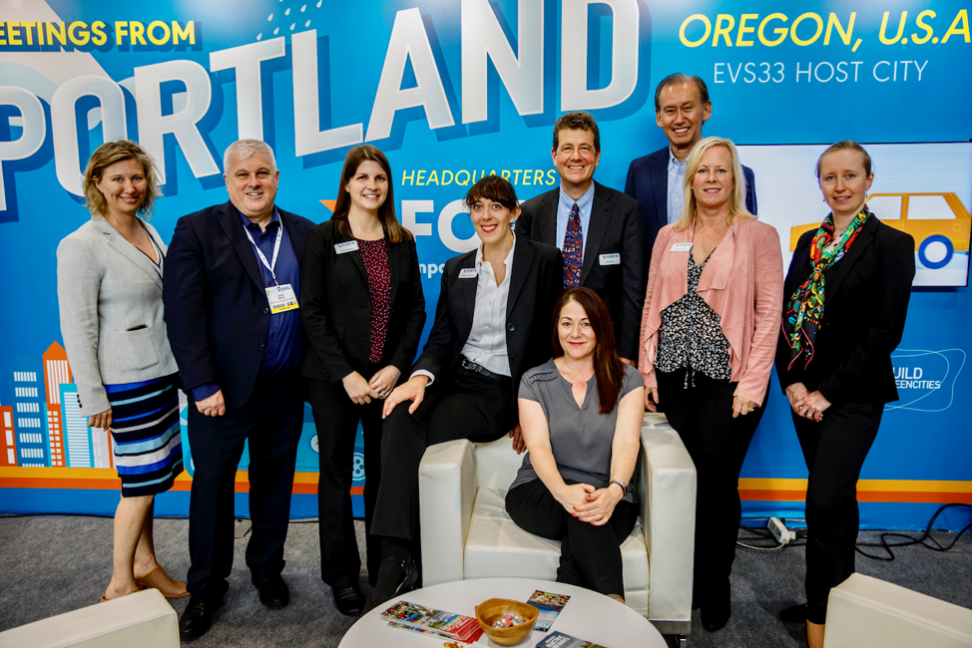 The News from France
June 5, 2019
By: Jeff Allen
A Forth delegation recently returned from France after attending the International Electric Vehicle Symposium (EVS), the largest electric mobility industry event in the world. Forth staff presented papers on Equitable E-Mobility, Consumer Engagement Best Practices, and Energy Provider Actions on Electric Transportation. We were joined by member companies and other allies. (In case you missed it, more on our delegation here.)
The Forth Team in Lyon! From left to right - Amy Hillman (Blink Charging), James Price (Siemens), Kelly Yearick (Forth), Ashley Duplanty (Forth), Jeff Allen (Forth), Charlie Allcock (CharlieAllcock Consulting), Jeanette Shaw (Forth), Joanna Hamblin (FreeWire Technologies) and sitting Pam Neal (Prosper Portland)
Here are a few of the key lessons and insights we brought back home:
This Industry is Truly International. There are a number of statistics that make this point. For example, the Atlas EV Hub recently reported that the US is poised to receive only about 10% of committed global EV investment. However, the internationalization of the industry was on full display in France, with chargers, vehicles, and consulting firms from around the world. Increasingly, attending international events like EVS is part of the "table stakes" for doing this work. Luckily, US-based organizations will have an easy opportunity to do so, since EVS will be coming to Portland next June!
This year's show was the most international EVS yet
Regions are leading. In the US, the EV market is almost entirely concentrated in a few regions: the West Coast, the Northeast, Denver, Atlanta, Salt Lake City… Similarly, in Europe, the real leadership is regional and grounded in places like Norway, the Netherlands, the German region of Baden-Wuerttemberg, parts of China, and parts of the United Kingdom. This makes sense – moving entire countries is a daunting task. Forth has been building relationships with these regions for the past few years, and these relationships are strengthening into an international "community of practice." I expect we'll see more formal international collaborative projects within a year.
Forth met with Baden-Württemberg's Minister of Transport Winfried Hermann (right).
Charging is Getting Smarter, Faster, and Cheaper. We saw an amazing number of innovative charging products in France. In our own booth, FreeWire's Boost charger can use integrated battery storage to deliver 120 kW output from a L2 installation site, while their Mobi chargers provide mobile fast charging. We were also joined by Mentor, A Siemens Business, which is engaged in smart charging projects around the world. Our neighbors in the Dutch booth hosted a major announcement about a new V2G pilot there (learn more by joining the Dutch breakfast at our upcoming Roadmap conference this month in Portland.)
Forth board member Charlie Allcock demonstrates the FreeWire charger
Electrification is spreading. We've seen light duty e-bikes and scooters, and more recently, heavy-duty trucks and buses. Many of both were on display – but it doesn't stop there. Watch for planes, boats, and more as the trend continues to 'electrify everything that moves.' The delegation from Norway announced plans for the world's first electric – and autonomous – container ship to launch in 2020.
EVS is Growing. Even with less than a year to plan since EVS 31 in Kobe, EVS 32 in Lyon had 7,400 visitors and over 300 exhibitors. We expect an even larger crowd to join us in Portland in 2020! It's not too early to start making your plans.
The number one takeaway is that you need to join us in Portland for EVS 33 June 14-17, 2020. This will be the first time EVS has been held in the United States since 2012, the first time it's been held in the US outside California in over 20 years, and its first time ever in the Pacific Northwest!
EVS33 is organized by EDTA and Forth is supporting EDTA as the local host organization. Registration will open later this summer, but it's not too early to start exploring exhibit and sponsorship opportunities.
To learn more, contact Ashley Duplanty, Forth's International Marketing Manager at ashleyd@forthmobility.org – or catch up with her at Roadmap in two weeks.
Back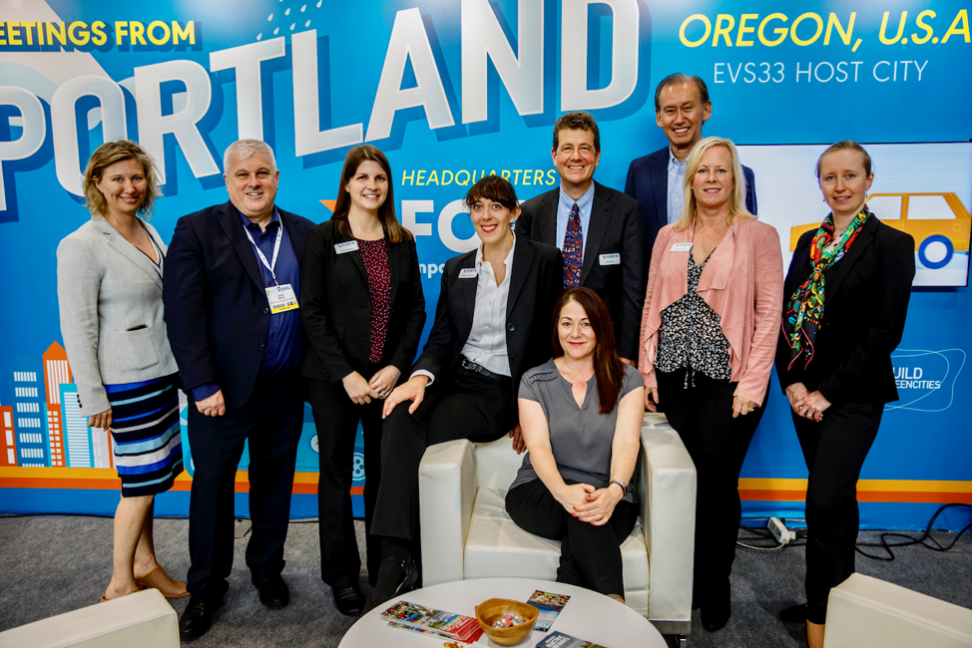 The News from France
/news/the-news-from-france
A Forth delegation recently returned from France after attending the International Electric Vehicle Symposium (EVS), the largest electric mobility industry event in the world. Forth staff presented pa...