Towing a Travel Trailer With An EV: Our Adventures Across the West
August 8, 2022
By: Stuart Green
We are a family that loves to travel and explore nature. Our trusty Chevy Express van carried us to some wild places. As the family grew bigger, we transitioned out of the adventure van and into a travel trailer. But we needed a tow vehicle to replace our gas guzzler and waited patiently for an EV that could do the job.
When we bought our Tesla Model Y Long Range, we knew it could tow our boat or camper, and we could revisit the places we loved without burning fossil fuels.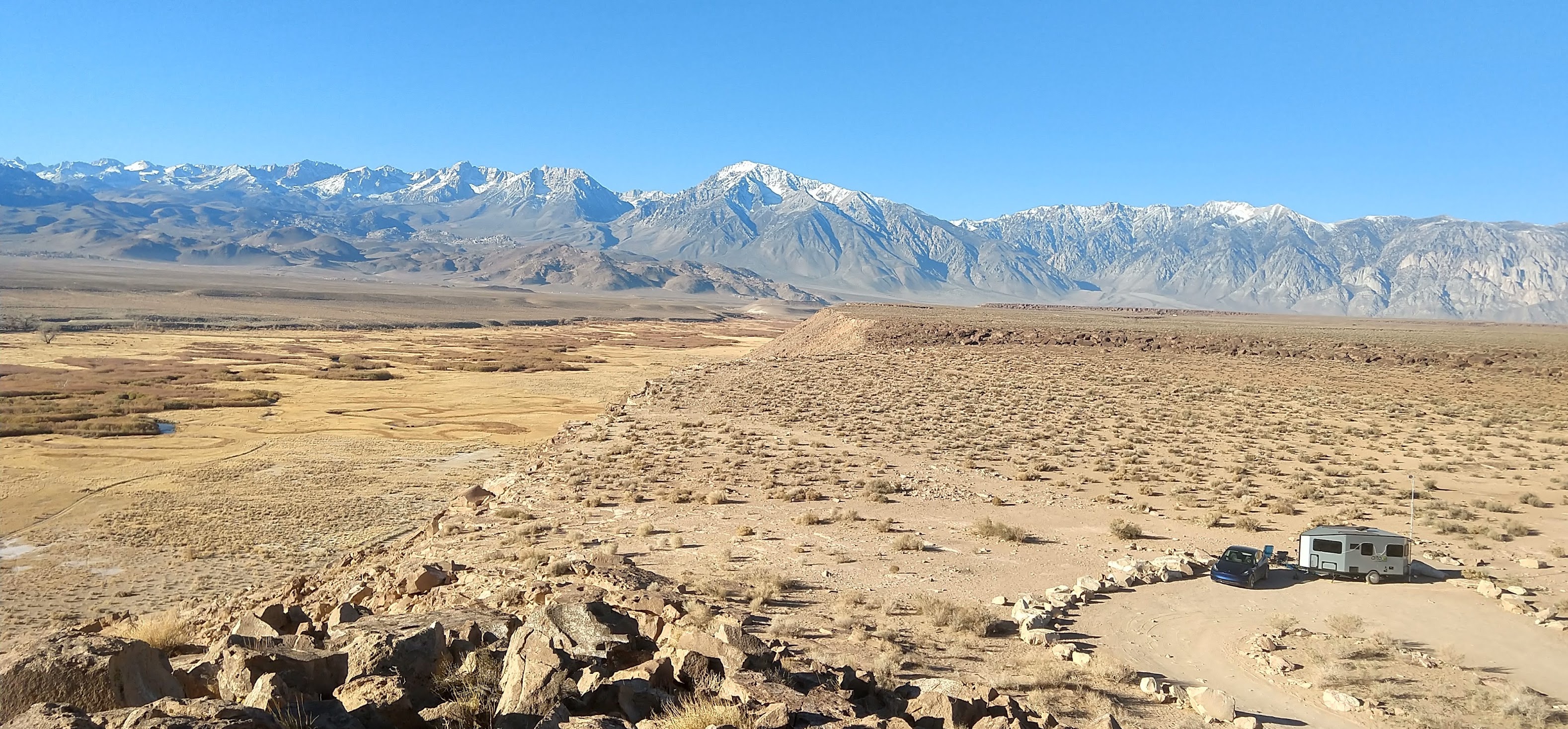 Over the past year we've logged more than 6,000 miles towing various trailers: 3000 miles with our streamlined 21' travel trailer and 2200 miles hauling a gear trailer.
Here's a brief list of a few of our favorite trips!


Lava Beds National Park, CA in winter (200 mi)

California Redwoods in summer (260 mi)

Yellowstone National Park and beyond in summer (2060 mi)

East side of Sierra Mountains, CA in the fall (1200 mi)

Yosemite Valley in spring (1000 mi)
Towing with an EV requires some extra planning, but it is totally doable and made our trips so much more satisfying. We learned a lot along the way and are excited to explore new places.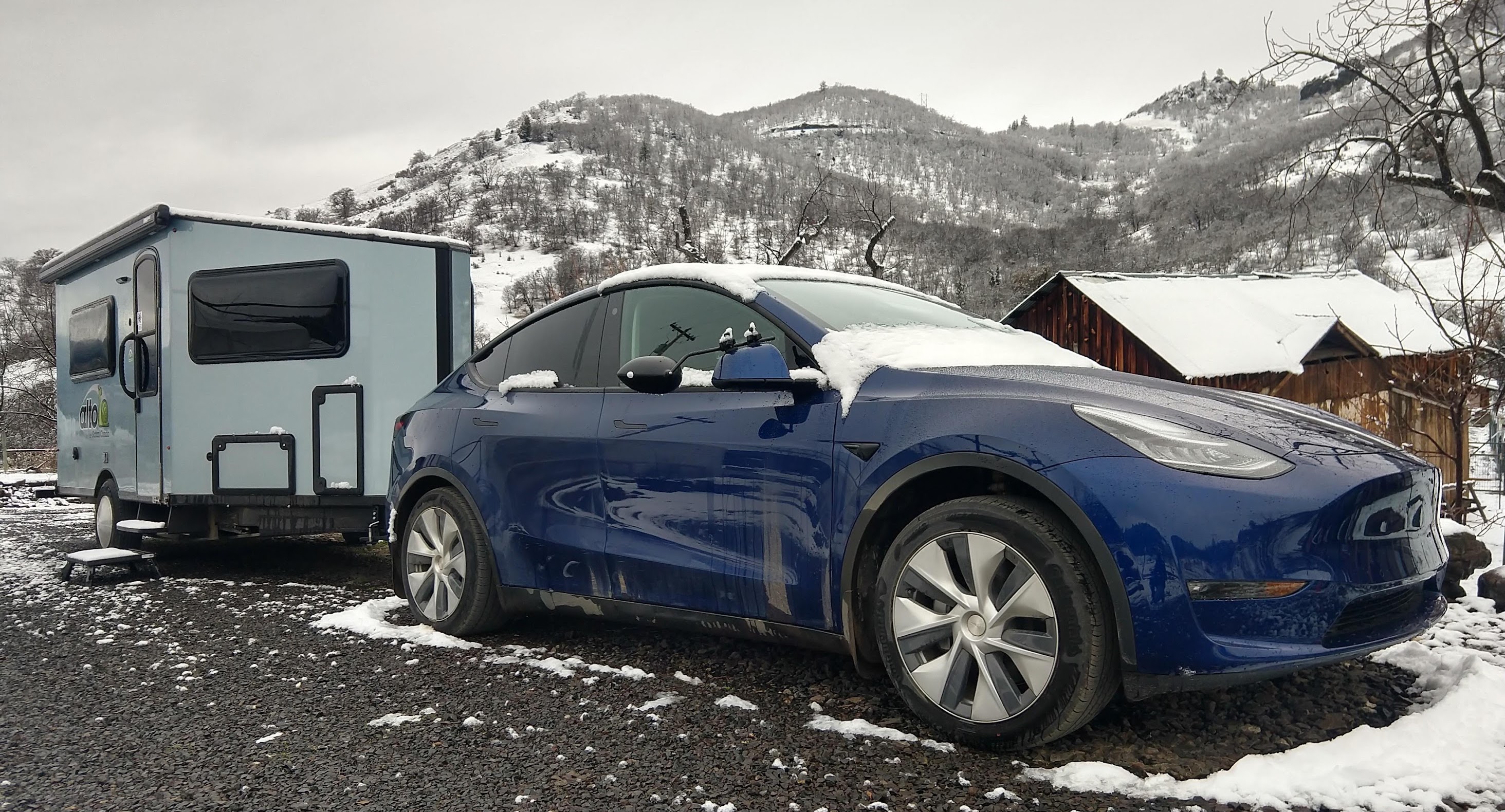 Here's a shortlist of things to consider if you want to tow electric.

Getting Ready to Tow!
Some things that are good to know before you hit the road towing -

Performance. Don't Drag Me Down.
Air resistance, speed, weight, terrain, weather conditions and driving style contribute to energy use and performance

Consider taking planned breaks when towing a camper/trailer. A trailer acts like a parachute and dramatically increases air resistance (a.k.a. drag) and you can expect over 40% range loss while pulling the camper. This would mean taking breaks every 150 miles to recharge while you stretch, walk or grab a snack

In contrast to the travel trailer, our low-profile utility trailer had little effect on the range as long as the brake controller worked properly

Travel Time. Your Ride is Not Underpowered.
Most mapping tools will assume you are traveling at the maximum speed limit, but your actual travel time will be longer in case of towing speed limits

Air resistance increases dramatically at higher speeds. Driving slowly conserves range

Make sure to account for "overhead" time needed to hitch and unhitch the trailer at chargers (probably all of them)


Charge Locations. Planning is Key.
Aftermarket trip planning software will give you a more accurate and reliable itinerary.

To calculate range, we use conservative efficiency estimates



600Wh/mi for the camper

400Wh/mi for the utility/raft trailer



Know your networked charging stations, but don't overlook non-networked options. Some alternate charging options



Destination charging at restaurants and hotels

Campgrounds with electrical hook-ups (best for overnight charging)

RV parks are everywhere and may allow you to charge (for a fee).



Use third-party software for increased energy use, additional charging time and range predictions.

Trailer-friendly spots are rare. DCFC networks and Tesla superchargers are not designed to accommodate an EV and a trailer.

Travel with various adapters so you can make the most of any charging resource (CCS, NEMA 10-30, NEMA 14-50A)
Best Supercharger for Trailers: Alturas, CA
Worst Supercharger for Trailers: Washington Square Mall, Tigard, OR
Best Bailout Charger: Virginia Creek Settlement, Bridgeport, CA
Favorite non-Tesla DCFC: Clearwater River Casino, Lewiston, ID
(*Casino offered us a free loaner adapter for CCS > Tesla)

On the Road
Performance. Driving an ICE* Tow Vehicle is Now a Chore.
As with any tow vehicle, the handling is a little different with a load attached. But in an EV, even with a full load, there is ample power to accelerate and pass cars with ease. We tackle steep passes and twisty mountain roads with no issues, but a low profile trailer pays big dividends when it comes to preserving range by minimizing drag. Trailers require additional energy to pull, but on the flip side, the increased weight means increased regenerative braking.

Brake Controller. Configuring the Tow Vehicle is Critical.
Make sure to fine tune brake controls. Many trailers have their own brakes which activate with the car's brake lights.

To maximize range, most of your braking should be gentle and regenerative. I use an aftermarket brake controller to adjust the trailer brake strength and sensitivity.

The weight of the trailer will add to regeneration. With practice you can minimize trailer braking and maximize regeneration.

Auto-steer. Trailer Mode Will Disable It.
Tesla auto-steer is automatically disabled in trailer mode. The vehicle's sensors are sometimes confused by the trailer and it shows up in strange places on the display screen.

These are some helpful tools along the way


Bluetooth brake controller

Extension mirrors

Planning software

Cold beverages in trailer while charging
These towing trips have been very satisfying for it lessened our carbon footprint on the places we visited. Hope these handy tips will be helpful on your next towing adventure.
*ICE: Internal Combustion Engine
Back
Towing a Travel Trailer With An EV: Our Adventures Across the West
/news/towing-a-travel-trailer-across-the-west-with-an-ev
We are a family that loves to travel and explore nature. Our trusty Chevy Express van carried us to some wild places. As the family grew bigger, we transitioned out of the adventure van and into a tra...