State EV Policy
Advocating Equitable Access to EVs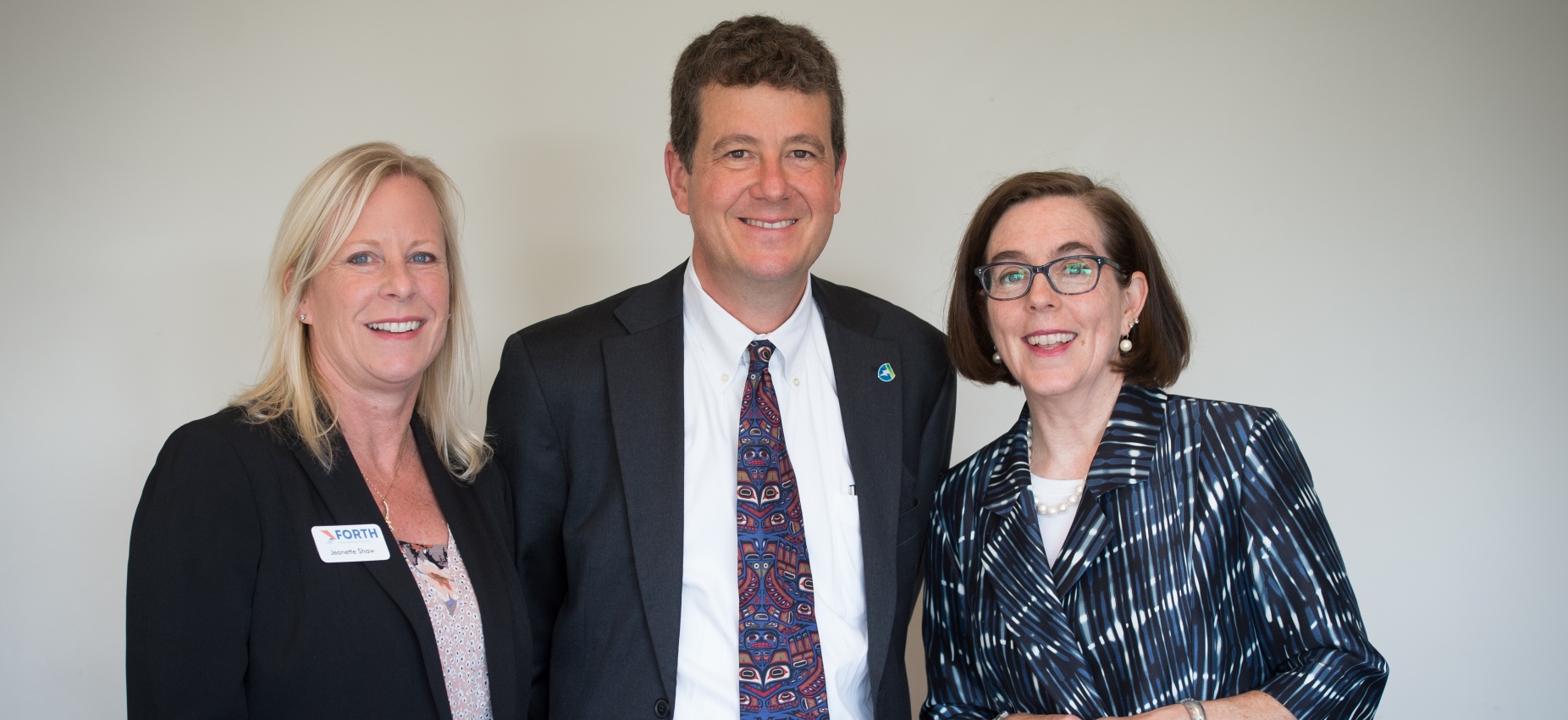 Advocating Equitable Access to EVs
"I am honored that Forth is joining me in our efforts to encourage the use of electric vehicles by both consumers and businesses across the Western United States. Making it easier for both consumers and businesses to travel and transport goods using electric vehicles frees up household incomes and yields increased profits."

– Former Oregon Governor, Kate Brown
Since its inception, Forth has been leading advocacy to put Oregon at the forefront of transportation electrification nationwide. More recently, we have expanded this work to Washington and a handful of other states. Our state level work aligns with our strategic plan:
Increase Access to Electric Cars
Promote state rebates for electric cars and bikes
Increase state funding and policy support to provide shared electric mobility services for affordable housing residents and social service organizations
Promote state and utility investment in brand-neutral EV outreach and education efforts to make more Americans aware of electric vehicles and their benefits
Invest in programs that help gig drivers shift to electric vehicles in ways that help make them better off economically, rather than imposing additional costs and hardships, especially if states are adopting 'clean miles standards'
Increase Access to Charging
Support state funding for charging and state policies that support utility funding for charging infrastructure
Increase state funding and support for technical assistance for charging
Increase Access to Emerging Modes
Promote state funding, incentives and other policy that supports privately owned and shared electric micromobility
Promote state adoption of clear e-bike categories and rules
Reduce regulatory barriers to use of three-wheel "autocycles"
Promote state policy that accelerates the transition to electric school buses, with a particular focus on repowers
Promote state policy that transitions transportation funding to a system based on pollution, congestion, and miles traveled
Increase funding and policy support to electrify American farm equipment
Coalitions & Associations
Forth works with a broad range of stakeholders, coalitions and associations to build a broad base of support for smart e-mobility policy. We also organize and support a bipartisan, bicameral Clean Transportation Caucus in Oregon and Washington.
Forth introduced and advocated for a pilot program for the electrification of medium-and-heavy-duty vehicles in Oregon. Along with partners- Oregon Environmental Council (OEC), Climate Solutions (CS), and Verde, we led advocacy efforts to shape state legislation in HB 5202 and
HB 4139 (2022).

Oregon DEQ's pilot Oregon Zero-Emission Fueling Infrastructure Grant program will provide $15 million in financial assistance to support the installation of new charging facilities for zero-emission medium- and heavy-duty trucks, buses, and equipment.
In Fall of 2022, Forth defended the Oregon Rebate Program from proposed cuts. Forth engaged stakeholders, staff and legislators to keep the program intact. Despite this strategic win, the rebate program is low on funds and vulnerable to future cuts.
With support from Forth and other advocates, Oregon and Washington took a critical step in passing the Advanced Clean Car II (ACCII) rules. They strengthen the region's emission standards for all new light-duty cars starting in 2026. By 2035 100% of new cars sold must be zero-emission vehicles. This important ruling will increase the availability of clean vehicles and reduce pollution.



Oregon Clean Vehicle Rebate Program
Washington EV Rebate and Infrastructure Funding

Washington Governor Jay Inslee announced a budget proposal in January 2022, to secure significant funding for the development of EV infrastructure and an ambitious EV rebate program in the state. Policy managers at Forth, our lobbyists and allies met with legislators, provided guidance for spending priorities, and testified in committee hearings in the 60-day session.

Our joint efforts resulted in a $250 million addition to the final budget in the $17-billion Move Ahead Washington Transportation Package appropriated for zero-emission transportation projects.

The allocation includes:

$120 million for programs and incentives promoting the purchase of and conversion to alternative fuel vehicles.
$69 million to support EV charging infrastructure in rural areas, office buildings, multi-family housing and other areas.
$25 million toward programs and incentives for overburdened and low-income communities.




Forth, with our partners, led the efforts to re-establish the sales tax incentive and helped shape legislation in HB 2042, providing incentives for electric vehicles and infrastructure. We advocated for low-income electric car-sharing pilots, low-income electric/hydro vehicle financing study, charging infrastructure, and to re-establish the sales tax exemption.
Forth's Testimony to Oregon SB 582 - Electric Vehicle Infrastructure Training Program
Forth's Testimony to Advanced Clean Cars II Rule
PNW EV Policy
/our-work/state-ev-policy
State EV Policy Advocating Equitable Access to EVs Advocating Equitable Access to EVs Forth on Facebook …